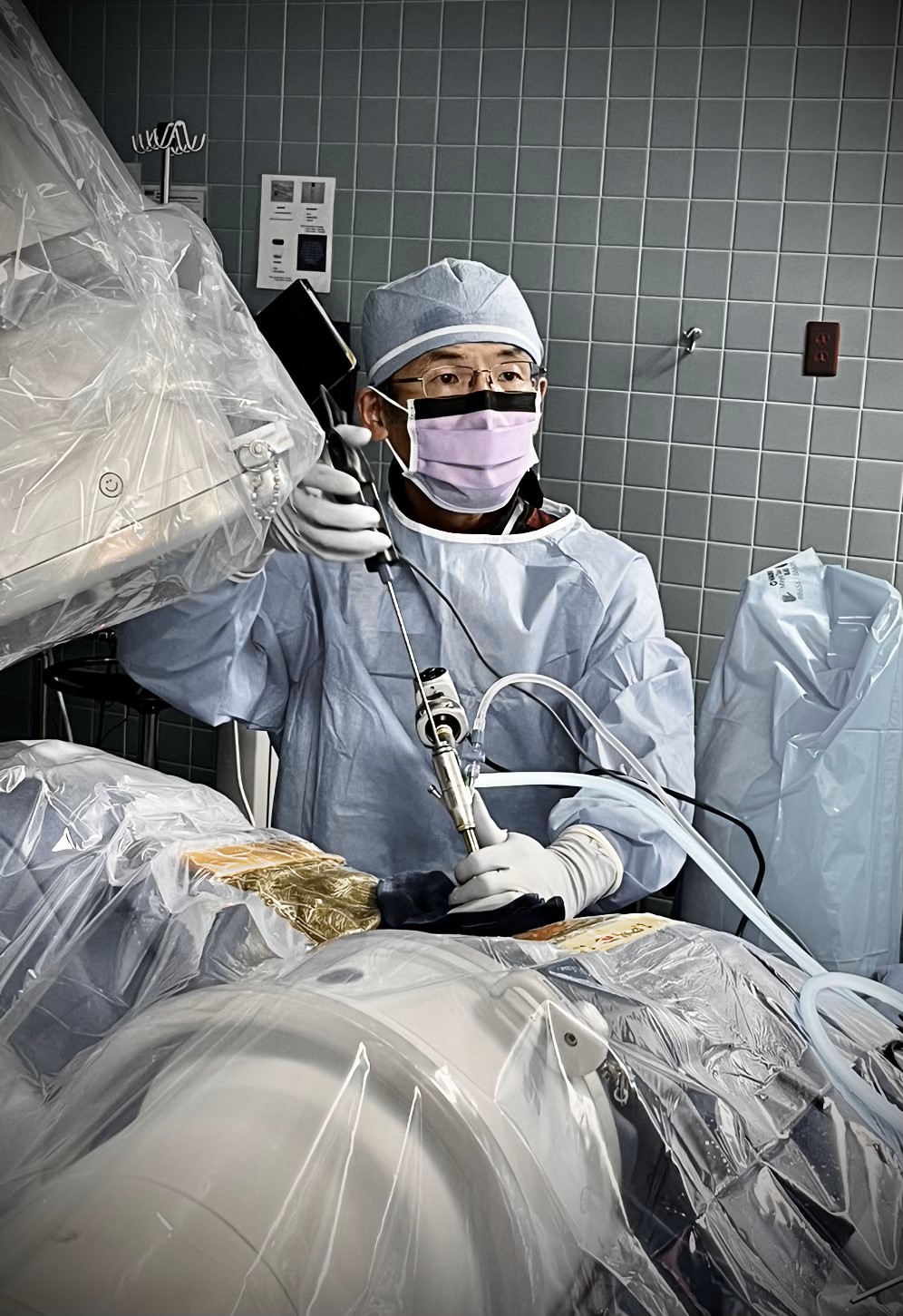 18 May

Jian Shen, MD, PhD, world leader in spine surgeries completes 5,000 endoscopic spine surgeries.

Reaching 5,000 endoscopic spine surgeries is a milestone only a few spine surgeons in the world can claim they have achieved and Wednesday, Jian Shen, MD, PhD paused to celebrate this extraordinary accomplishment at St. Mary's Healthcare in Amsterdam, NY. Upon reflection, Dr. Shen stated, "I am incredibly grateful to all the team members who assisted me in reaching this accomplishment. I am also so humbled by the patients who entrust me with their care. It is a great privilege to help patients return to their former lifestyles with greater peace, activity, and less pain."
Who is Dr. Jian Shen
Dr. Shen is a pioneer of Endoscopic Spine Surgery. Endoscopic spine surgery is the most advanced, minimally invasive spine surgery available to patients suffering from neck and back pain. However, only a few physicians in the world have mastered the technique.
What is Endoscopic Spine Surgery?
Endoscopic spine surgery is used to relieve chronic back, leg, and neck pain. The state-of-the-art spine surgery uses a high-definition camera attached to the end of a scope, an endoscope, inserted through a 7 mm incision to target the pain generator in the spine. Dr. Shen utilizes highly specialized micro-instruments like lasers, probes, and graspers as the surgery is broadcast in real-time onto a computer screen. In essence, the surgery is completed through a straw. The endoscopic approach allows Dr. Shen to operate with greater accuracy and with better outcomes than traditional spine surgery.
"While the number may be a huge accomplishment, I measure the achievement by the 5,000 lives changed with this advanced surgical technique. It is the human factor-the lives transformed- that is so rewarding for the Shen Spine Team", explained Certified Surgical Technologist, Victoria Treadwell, who assisted in the surgery. She added, "It is an honor to be at Dr. Shen's side during these surgeries. Even now, I am still in awe of his technique. I am also in awe of how well patients respond to the surgery. We have patients who are skiing, hiking, and biking again. I love hearing the newfound hope in their voices after the surgery."
Faster Recovery With Endoscopic Spine Surgery
For the patient, endoscopic spine surgery means faster recovery periods with less post-operative pain. The ultra-minimally invasive surgery significantly reduces trauma to the patient's soft tissue and muscles, allowing for faster recovery and, in most cases, less post-operative pain. Dr. Shen typically finished surgeries with a Band-Aid or a small bandage. As a result of the smaller surgical incision, Dr. Shen also reports zero surgical infections from the 5,000 surgeries.
Dr. Shen – A Leader In His Field
Many doctors have studied Dr. Shen's technique and sought him out for lecture circuits, demonstrations, and advice. Dr. Shen co-founded the International Society of Endoscopic Spine Surgery to advance the field of endoscopic spine surgery. He has earned several awards including:
New York Endoscopic Spine Surgeon of the Year, 2020, America's Most Honored Doctors Award, Parviz Kambin Award for outstanding scientific and educational dedication to endoscopic spinal surgery 2-19, New York Top Doctor Award, 2019-2021, New York/New Jersey Top Spine Surgeon Award, and the 2016-2020, NY Patients' Choice Award. Patient reviews on Health Grades give him high marks for explaining conditions well, for appointments that aren't rushed, and for good listening skills. He has earned over 191 five-star reviews on the Health Grades Website.
Earning the nickname "The spine doctor spine surgeons use," many spine surgeons seek out Dr. Shen for their own spine surgeries. "He is more of an artist. Dr. Shen has reached that level of expertise. I invite everyone to study Dr. Shen's model because it is amazing. It is life-changing," reflects Dr. Joel M after Dr. Shen operated on his son endoscopically in September.
Throughout his career, Dr. Shen has completed over 6,500 surgeries, of which 5,000 have been endoscopic spine surgeries. Dr. Shen celebrated the accomplishment Wednesday with his surgical team, before starting the next surgery.
Contact Dr. Shen Office Today to Schedule A Consultation
For more information about Dr. Shen and endoscopic Spine Surgery please get in touch with us or by calling his main office at 518-708-6300.